If you are shopping for the essential part of any bathroom – the throne, most commonly known as the flushing toilet, you are probably thinking, well, all of them look the same. Well, in reality, they do, but there are a lot of features that set them apart.
We understand that every individual has different needs and requirements; that's why we have looked through many toilet options on the market to find some of the best options that would be a perfect fit for all kinds of bathrooms.
The options we have reviewed won't only offer you the convenience of a sleek and modern design, as all of them come with dozens of unique features and comfort advantages. Moreover, it is suitable for all types of users, so if you want to know the best flushing toilet models at the present moment, keep reading. 
How We Made the List
Even though you might think that all flushing toilets look the same and probably they do the same thing, you are wrong. There are a lot of variations with added benefits that you should consider when investing in a high-quality flushing toilet.
Since we wanted to give you the best option on the market, we have considered a few factors when selecting them.
Size options
Of course, the size options were one of the first and most important things that we paid the most attention to. The companies create flushing toilets of different sizes and measurements so they can fit in all kinds of bathroom spaces. We have included the standard toilet size models that we thought would be a perfect fit for most of our readers looking to purchase this bathroom size.
Installation style
Since we know those aesthetics play a major role when designing your bathroom, you sure would want the flushing toilet to fit the overall style. This is why we have considered some more sleek designs that are more appealing to the high; however, we have also included small model options that would be a perfect fit for little bathroom space.
Since the more modern designs are usually more pricey, we ensure that options are suitable for every budget as we understand that not everyone can splurge on bedroom equipment.
The height
This is one of the most important features that individuals look for when shopping for a new toilet, and we understand that everyone has a different commodity standard. Most of the available models on the market are between 14 and 15 inches to the ground, with chair-height seating.
Apart from that, the suitable models for individuals with disabilities are ADA certified and are 16.5 inches high, making them accessible for individuals with restricted mobility.
Noise level
If your bathroom is next to your bedroom or your baby's nursery, you might be considering choosing a toilet that doesn't make any flushing noise. Typically, the gravity flushing models are the most convenient option as they have the lowest noise levels. The options on our list also have a soft-lit closure to prevent slam shut.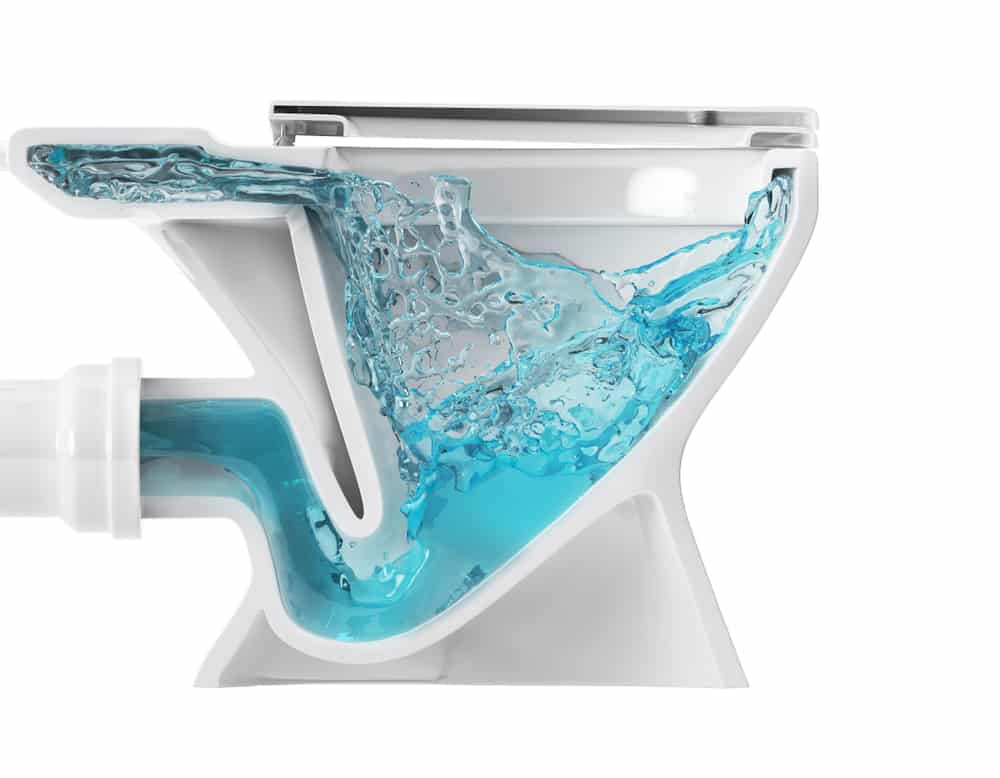 Best Flushing Toilet Brands
Best Flushing Toilet Brand Reviews
WOODBRIDGE B--0980S Smart Bidet Toilet Elongated One...
✅ [AUTO OPEN & CLOSE]: Smart toilet features begin as you approach the toilet. The lid automatically opens hands-free to welcome you
✅ [AUTOMATIC FLUSH]: the seat will activate the self-cleaning bidet/spray wand and follow by a powerful flush on your departure for...
✅ [TOTALLY HYGIENIC]: Posterior wash, Feminine wash, Pulsating wash, Adjustable water pressure, hygienic filtered water
Woodbridge Smart Bidet Toilet is what its name suggests, a pretty smart toilet that just knows how to ensure ultimate comfort. It's among the best dual flush toilets, which means that you have greater control over the number of gallons used per flush and makes it an excellent model for all user categories.
One of the best features is that it's not so expensive even though it's a premium luxury piece. It strikes with a modern-looking design making it a perfect fit for a monochromatic style bathroom.
Apart from all the convincing mechanisms it comes with, it's especially easy to install and connect with the other bathroom accessories.
Features
Ultimate hygiene and no bad smell system
There are a lot of unique features of the Woodbridge model. It starts with several hands-free modes for ultimate hygienic use. The automatic flush and lid closing control ensure you won't touch anything icky and transfer germs on your hands.
It uses powerful air filters that draw the air in to prevent unpleasant odors, which allows multiple uses without waiting a long time for the nasty smell to disappear.
Smart system
Since we are talking about a smart system flushing toilets, it's far more convenient when compared to the standard conventional toilets when it comes to saving on utility costs. Whenever it senses a potential overflow, it shuts off automatically and sends a smart alert if it detects a leak.
High-efficiency flushing
Woodbridge model has a quiet and powerful flushing system, using Siphonic 1.6 GPF/1.0 GPF with an average of 1.28 GPF bringing super quiet non-intrusive flushing. It's specially designed to minimize clogging while working efficiently compared to the other systems.
This is quite superior in comparison to the superior single-piece competitor models.
Comfortable and long-lasting design
This toiled model is super comfortable, fixed with stainless steel hinges that won't rust and are very durable. Its surface is glazed, preventing the spreading of bacteria all over the bathroom, which is especially advantageous for issues with mold.
It comes with additional accessories in the packaging, including a pre-installed seat and hand wrench. It's designed to fit tiger bathrooms without taking up too much space. Also, it's recommended for individuals with mobility issues as it's taller than the other options.
One-year warranty and great price
Woodbridge B0980S toilet comes with a professional manual for easy installation explained step by step. Most importantly, it has a one-year warranty covering the soft closing seat feature and flush operation.
It's an economic model even for today's standards. You can get everything you need with all the equipment together. This is another good feature.
Sale
If you are looking for the newest, most advanced model with eco-friendly features, the TOTO Eco UltraMax toilet offers the most advanced features to improve your daily life. It's created on the idea that everyone needs to become conscious of the environment and make the most of it to keep it as safe as it can. This is why TOTO is a worldwide leader in everything regarding bathroom equipment.
This is their most notable flushing toilet model created with the latest technology flushing mechanism with low water consumption levels. Despite the rapid speed, it doesn't splash and ensures a clean and entirely bacteria-free bowl.
It's a universal size suitable for all types of bathroom sizes, offering ultimate comfort for both seniors and tall folks.
Features
High-end flushing mechanism
TOTO Eco Ultamax's flushing mechanism works thanks to the fluid movement design seamlessly. It doesn't splash outside the bowl beside the rapid speed, ensuring a clean bowl every time.
Using only 1.28 gallons per flush is one of the most eco-friendly models available on the market. The company took a step further to ensure that no flushing power is sacrificed with this feature. It works on a pull method to create a cyclonic action capturing waste before exiting with a strong force.
Comfortable height and especially for all users
Eco Ultramax toilet allows comfort for all users. Due to its elongated shape, the bowl distributes the weight evenly on the toilet, which is especially important for older people or those with disabilities that suffer from back problems.
Most importantly, it doesn't produce loud noise while flushing, which ensures that you won't be waking up your entire family. Additionally, there is no slam shut even if you do it too strongly. Its fascinating SoftClose technology also prevents pinching on the fingers.
Easy setup process
This TOTO toilet offers you the convenience of easy setup; it comes with a detailed manual with a step-by-step guide. The advantage is that you don't need to attach a toilet tank on the top of the bowl, making it easier to lift it yourself.
Alternatively, there is a simple video on the company's official website.
Easy maintenance
TOTO Eco Ultramax is designed to look sleepy and with the best convenience to prevent clogging and flooding. Since the rim of the bowl is designed without holes, it makes it a lot easier to clean, and what is more, it has a unique finishing called SanaGloss formulated by the company.
This prevents the buildup of germs and bacteria, ensuring it leaves no bad odor.
Affordable price and warranty
Since we are talking about superior quality products, TOTO Eco Ultramax offers you a one-year limited warranty, so you can rest assured that you are getting what you are paying for. Most importantly, this eco-friendly option comes at a fairly affordable price when compared to other similar category flushing toilet options.
Kohler 3810-95 Santa Rosa Comfort Height Elongated 1.28...
One-piece toilets integrate the tank and bowl into a seamless, easy-to-clean design
Comfort Height offers chair-height seating that makes sitting down and standing up easier
Compact elongated bowl offers added comfort while occupying the same space as a round-front bowl
Kohler is one of the top manufacturers of comfort, unique design, and modern features. Its latest model, 3810-95 Santa Rosa, is designed on water-saving technology with sturdy constriction and a larger selection of color options to suit your bathroom aesthetic.
Kohler Santa Rosa is created of vitreous china coming in a compact 12.9-inch design that wouldn't take up too much of your space in your bathroom.
This is a remarkable comfort design toilet suitable for many users. Its seat is around two inches tall, similar to the height of a regular chair, making it beneficial for people that face problems with standing up and sitting down.
It's one of the easiest to maintain options compared to a two-piece, so you don't need too much time and effort to keep it extra clean. Finally, you can install it yourself without any problem due to its simple structure design.
Features
Force of the gravity flushing system
Kohler Santa Rosa uses a force of gravity flushing system with a precision-engineered tank bowl to create a strong siphon when flashing. It flashes the water into the bowl from all sites increasing the power and effectiveness of the flush.
It only uses 1.28 gallons per flush, a right smart flushing system to fully clean everything with one flush and comparably less water.
Modern design in multi-color options
Kohler Santa Rosa comes in many available colors to choose from, including almond, biscuit, dunes, white, and ice gray colors. It's a perfect fit for modern-looking bathrooms with a major accent on simplicity and minimalism.
The common weight for Santa Rosa is between 99 to 105 pounds, with a remarkable characteristic to save you space in your bathroom.
Easy installation process and affordable price
Kohler Santa Rosa is especially easy to install with a complete guarantee that it will not wobble. It comes with an additional wax seal, nuts, and fixing bolts. The entire installation is very similar to the usual signal peace toilets, so it requires only minimal DIY skills and won't take you much time.
Since we focus on affordability, Kohler Santa Rosa is incredibly affordable without compromising on quality if you are looking to get a high-end flushing toilet without breaking the bank.
Water-saving economy system
Santa Rosa toilet reduces water waste through its water-saving system to create enough suction. It can save you up to hundreds of gallons of water each year, especially for several members of the family.
Its AquaPiston canister flush allows more water to flush the train than a traditional flapper. Since less surface area comes into contact with the water, it prevents leakage and requires much less maintenance effort.
Sale
Kohler K-3999-0 Highline Comfort Height Two-piece...
Comfort height elongated toilet bowl with a seat height comparable to that of a standard chair, comfort height toilets make sitting down and...
12 inches rough in. Water sense toilets meet strict EPA flushing guidelines, including using at least 20 percent less water than 1.6-gallon...
29 to 1/2 inches (74.9 centimeter) x 18 (45.7 centimeter) x 31 to 1/4 (79.4 centimeter); Seat post hole centers: 5.5 inch
Kohler has released another remarkable flushing toilet option using the latest technology to ensure high-quality functionality. It comes with its sleep appearance signature design, with better convenience to suit the needs of a temporary household.
Kohler isn't just about elegance, but they also put a major focus on the technical features. It uses a gravity water flushing system allowing entire cleaning with only one flash, which is an excellent way to conserve water.
One of the most notable features of this K-3999-0 design is its water-saving capabilities that guarantee it only uses 1.28 gallons of water per flushing. When it comes to the seat height, it's comparable to a standard chair; therefore, it makes it especially advantageous for people with knee or back problems.
Features
Patented flush system
Kohler uses their patented flush system with the force of the fast-moving water to swiftly deploy water into the bowl. It reduces the flush volume to only 1.28 gallons per flush instead of the standard 3 gallons.
Kohler is designed on a unique concept ensuring entirely economical usage. Most importantly, this flush technology engine prevents clogs more than the other mechanism.
Comfort design for all users range
Kohler takes care to customize their products to be suitable for all users. They have the most conveniently designed flushing toilets with a modern look. The bowl sits at 16.5 inches above the floor using a standard 12 inches seat high. It won't be too much of a problem even for short individuals cause it's still a reasonable level for all heights.
It's made from glass porcelain with a special enamel coating with a smooth white and a clean finish. It's durable and practical for everyday use, perfectly complementing the minimalistic modern bathroom look.
Self-cleaning technology
While most of the other low-quality flushing toilets are still dirty after you flush them, Kohler has an advanced self-cleaning system that ensures it's extra clean. It also prevents clogging and spreading bacteria outside of the bowl.
Easy installation and one year warranty
Kohler K-3999-0 flushing toilet model allows you an easy and convenient installation process allowing you to connect the tank to the bowl with ease. It is neat comfort and water-efficient; however, if you feel more confident, you can hire a plumber.
The price range is somewhat higher than the other option; however, this is because of its advanced features. Kohler provides a one-year warranty; however, since it's made of high-quality material, any sanitary problems are rare.
How to Choose the Best Flushing Toilet
If you are looking for the best flushing toilet for your home, you probably know that there are tons of options and models you can choose from. The newest ones come in different measurements and flushing systems so that you can choose according to your budget and needs.
To avoid problems in the future, you must consider a few things before you purchase one. Thus, here are the most important things you should note:
Bathroom measurements
Not all bathrooms are the same size; this is why the companies create toilets in different sizes with different working functionality. This is why you need to take measurements of the whole space and the distance between the wall and the floor drain. In most cases, it ranges between 10 to 14 inches so make sure that you are choosing the appropriate size that will be the best fit.
The tankless toilet is especially recommended for small bathrooms since it's designed to fit small spaces.
Special features
The newest toiled models come with certain specifications that add to the user's convenience. Some of these models can improve hygiene and provide much more comfort than the other options. Smart toilets are a great option as they have a system that uses warm water, air dryers, heated seats, etc.
The benefits of these toilets are much bigger in the long run if you don't want to be purchasing new ones now and then, so even if they are much more expensive than the others, they are still worth the money.
Consider your comfort
Choosing a flushing toilet comes with the same importance as looking for an office chair since you'll probably be spending a lot of time sitting on it. So, when you are sitting on this throne, you should consider your comfort.
Some of the most important features that determine this are:
The shape
Toilets come in two designs: elongated and round. You should go for the elongated options for maximum comfort as they are longer.
The height
The standard toilet height is 15 inches. The taller models are usually a much-preferred option as they are easier to sit on and more comfortable since they create less stress on the back. However, tall toilets aren't the best choice if you have small children, so you should consider toilet options between 17 to 19 inches.
The seat
The essential role of comfort is the toilet seat. Some toilets are designed to have cleansing attachments and provide as much more pleasure as possible. After all, comfort should never be compromised, so you should always look for the options that provide the best advantages.
Flushing methods and water efficiency
As we have already mentioned, the newest models of flushing toilets offer all types of conveniences, and one of the essential features is the flushing system. These are some of the most popular options available:
Gravity flush
This is the traditional slushing system that uses gravity force to flush toilet paper and waste. This is one of the most common toilet styles. However, it's not so efficient when it comes to flushing, as it uses between 1.3 to 1.6 gallons per flush.
Pressure tank assistance
This type of flushing system is much more powerful than the previous one as it's boosted by air pressure. Their main benefits are the high score of water-saving, preventing clogging, and maintaining the bowl perfectly clean; however, they are noisier when flushing than the standard options.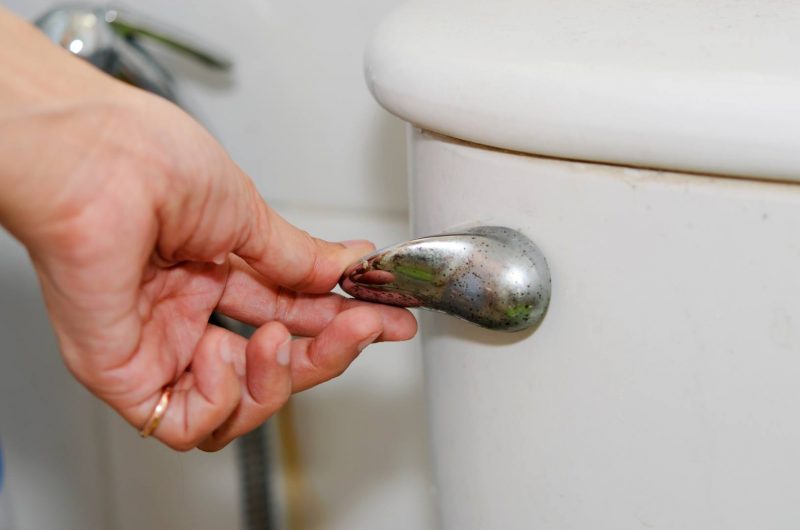 Frequently Asked Questions
How to take measurements of the space for the new toilet?
There are two methods of calculating the required space for the new toilet. The first one is determining how much space is between the wall and the center of the fixing bolt near the wall. The right space requirement for most toilet options is anywhere between 10 to 12 inches.
Also, you need to consider the length of the bowl in reference to your bathroom so you'll be able to close the door once your new toilet is installed. You should always take the measurements while your old toilet is still in place.
How to install your flushing toilet by yourself?
If you are replacing your old toilet with a new one, first, you need to create a hole for a flange. The place where your previous toilet was installed already has a hole, so you'll need to install the new flange over the hole and then fix a new wax ring around the drainage hole.
It's important for the flange to be fixed tight on the flow to prevent unbolting the wax ring and screwing the flange.
The next step is to place the anchor bolts in the collar slots of the flange and place the toilet bolt over the bolts. Make sure you push the bowl lower so it's installed firmly over the ring and anchor.
Install the bolts using some shims and spacers to secure them. If the old supply line is broken or damaged, don't forget to supply a new one.
Finally, fill the tank with water and check if there are any leaks.
What are the most efficient ways to unclog a toilet?
The most efficient way is to use a plunger, glanced plunger, or closet plunger. Insert the plunger into the toilet bowl at an angle, and then fill it with water. Place the plunger into the toilet bowl to fill it with water, and then fit the cup over the drain opening on the bottom of the bowl.
Then push down on the plunger with swift thrusts to create enough pressure to loosen the obstruction. As long as you have a good seal, most clogs can be removed from five to six thrusts.
What is the perfect height of the toilet seat for ultimate comfort?
According to the specialist, the ideal height of the toilet for ultimate comfort for the elderly or disabled should be a height between 17 and 19 us inches. The standard toilet height is 15 inches. However, everyone has a different version of a comfortable height which usually depends on personal needs and their height.
Shorter people and children would find lower toilet height more comfortable, so it's best for them to choose the standard 15-inch height toilet option.
How do I maintain my toilet perfectly clean?
Even though these are the best flushing toilet options, it doesn't mean that you shouldn't do anything when it comes to hygiene. Oftentimes, even the best models on the market need a certain level of maintenance to ensure they will be able to stay in perfect condition for a longer period of time.
These are some of the most important tips you should keep in mind:
When you are cleaning your toilet, you should pay attention to every part of the bowl. You need to clean the area beneath the rim since that's the most common place where the bacteria spreads
You shouldn't forget to clean the toilet handle as well, as it's the part that carries the majority of the bacteria apart from the bowl itself; make sure you use a sanitizer to prevent the spreading of germs
When you are flushing the toilet, ensure you shut down the lit to prevent projecting the bacteria into the air as a result of the force of the flushing mechanism
If you are using toilet brushes, ensure you change them as often as you can; disinfection isn't always doing the full job since the bacteria builds up over a certain period of time
What's the difference between dual flush and gravity flushing systems?
Gravity flushing is one of the oldest flushing mechanisms as it's very powerful and cleans waste or continents in the toilet with just one flush. The dual flush allows saving on water since there are two button options for short and long water calls.
In dual flush toilets, you might need more than one splash for the content to be fully cleaned, unlike with the gravity flush.
Conclusion
You are now ready to get your bathroom fully equipped. One of the most important features, when you are looking for a new flushing toilet, is, of course, flushing efficiency and comfort, and our recommendations provide you with both of those advantages.
The rest of the features are optional according to your budget and preferences, so our advice is to stretch your dollar a little since these options are an investment in the long run.
However, at the end of the day, the model of your choice should still be driven by your personal preferences based on the features you are looking for. It's always more convenient to prioritize them according to their importance in order for you to avoid making a wrong choice.