Cleaning the toilet is typically everyone's least favorite task when organizing the bathroom. Finding the best toilet cleaner, however, can not only make this difficult task easier but also something you might not need to do as frequently.
With toilet bowl brushes, liquid cleaners, pills, and automatic toilet cleaners in gels and tablets, the options for getting rid of those toilet rings appear limitless. Choosing the appropriate products for the job is crucial if you want to spend less time scrubbing.
Luckily, in this article, we have compiled the list of the best cleaners for toilet seats. These cleaners have been selected after thorough research on this topic. With no further ado, let's get started!
How We Made This List
Ingredients
The ingredient list is always where we begin. Transparency is crucial while seeking a natural, safe product. You won't know what's hidden in the product if you can't view a complete list of the components.
Effortless use
One of the least appealing housekeeping tasks is cleaning the toilet, so we chose an easy-to-use device to complete the task quickly and effectively. The simplest type of cleaner to use with a spray or squeeze container is a liquid. The process is also made simpler by toilet cleaning systems that use disposable scouring pads. Applying powders and gel discs requires additional time.
The reputation of the brand
We closely looked into the brand reputation. When the brand of your product has a reputation, then you also feel good about buying it because there is a reason for that reputation. We chose the products with a good reputation online.
Customer reviews
The testimonials are the most accurate thing about a product. They are the experiences of the customers who have used the product in real life. You can find the problems and the benefits the real customers had while using the product. So, we carefully read the review online while choosing these products.
Pricing
What's good about the applications of the product when you can't afford it? Due to this, we selected the products which were not too expensive, and we also disregarded the products that were too cheap to even trust.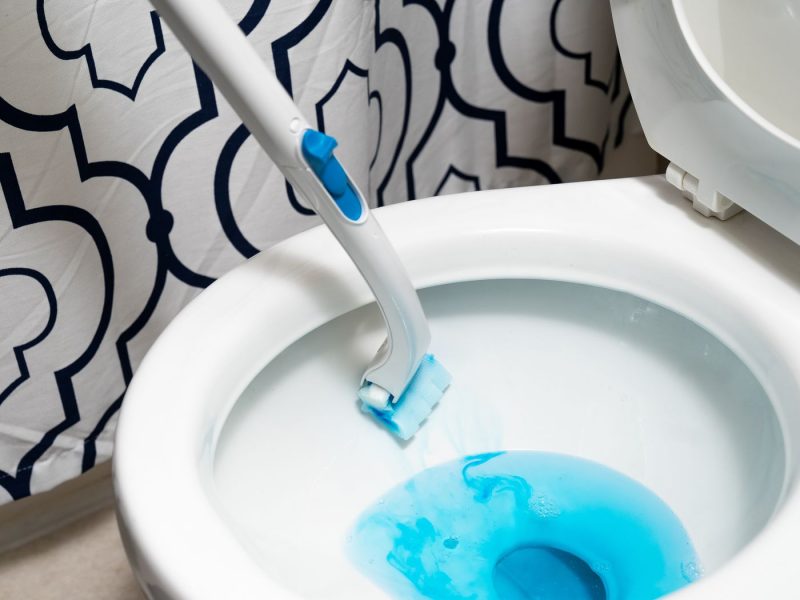 Best Cleaners for Toilet Seats
Best Cleaners for Toilet Seats: Reviews
Sale
The RMR 86 is a liquid cleaner for industrial use that was designed with efficiency and safety in mind. It is less expensive and more effective in removing mold and bacterial growth than many other high-priced alternatives.
Hundreds of contractors rely on this product for a professional-grade clean-up procedure. This plant-based product is completely safe and does not cause any long-term or short-term harm. The RMR 86 has sodium hypochlorite as an advantage in the fight against mold. With the help of sodium hypochlorite, this powerful bleaching agent can get rid of mold in your home and its harmful effects.
A trouble-free experience can be had by taking precautions and carefully following the directions while using this product. You should use gloves and safety goggles to protect your hands and eyes when using this mildew and stain remover. Mold-damaged surfaces can be restored quickly and easily using this technique.
Despite its recent arrival on the market, the RMR 86 has swiftly established itself as a top-tier mold and mildew stain remover. All kinds of surfaces can be cleaned using its bleach-based patent-pending process. The RMR 86 can be used on any porous or hard surface, such as wood or fiberglass, and the results are immediate.
Highlights
Remove sticky mold and mildew stains
The stains that black mold and mildew leave behind are removed with our quick spray cleanser. They frequently leave behind unsightly stains, some of which may penetrate very deeply.
Eliminate unwanted smells
Keep your home free of the musty, wet odors that other sprays typically leave behind; Our spray works well on vinyl shower curtains, drywall, and in the bathroom and kitchen.
Rapid-response spray
Our fast-acting mold stain remover spray promptly targets deeply ingrained stains that persist between bathroom tiles, in grout lines, underneath sinks, and on shower doors.
No cleaning required
The product's best feature is that after applying it, there is no need to scrape or sand the surface. You can use it on the decks of your boats or anywhere else in your home where moisture encourages the growth of mold. You can use the product undiluted and without any dilution.
Simply spray the damaged area with our ready-to-use product, and see the stains fade before your very own eyes!
Useful on a variety of surfaces
Bathtubs, decks, wood, vinyl siding, drywall, concrete floors, brick walls, kitchen, and bathroom tiles, as well as other surfaces where mold and mildew like to thrive, can all be stained with ease.
Reduces costs
Wood is returned to its original state using this formula. You can avoid having to replace the wood by eliminating the mold stains.
Customer experience
Customers who bought the RMR 86 said it is a highly efficient and simple to use mold stain remover. When used as directed, it is extremely efficient and provides enduring advantages. With its performance, the RMR 86 has surpassed many of its rivals. Since the product doesn't need to be scrubbed, users are happy to benefit from it.
Additionally, you don't need to invest much to see the benefits. Several individuals claim to have seen effects within 15 seconds of the initial application. You may use the solution to sanitize your home and boats, and the bottle is simple to handle.
Make sure you are utilizing the product in a well-ventilated environment and with protective clothing. Due to its powerful bleaching chemicals, it is crucial to carefully follow all directions to prevent accidents.
BRIOTECH Sanitizer + Disinfectant, Kills 99.99% of...
☑️ SPRAY & SANITIZE: Kills 99.99% of Viruses & Bacteria.
☑️ READY TO USE: 3 in 1 Formula (sanitizer, disinfectant, odor eliminator). Does not require mixing, dilution, or protective equipment....
☑️ MADE WITH HOCL: Sanitizes like traditional chemicals. Can be used to sanitize homes, bathrooms, restaurants, hospital kitchens,...
All-purpose cleaners, antiseptic sprays, and facial toners are the major items that BRIOTECH sells under the health and household category. We discovered that Briotech, Inc. manufactures the majority of BRIOTECH products. The factory consistently supplies BRIOTECH with goods, and the two organizations work well together.
The Briotech Sanitizer and Disinfectant, developed and manufactured in the USA using only natural components, eradicates 99.99 percent of dangerous bacteria and viruses that are present on surfaces. The product is free of harsh chemicals, alcohol, and bleach, and it is packaged in recyclable materials.
The product is pure, efficient, and safe for food contact because it doesn't contain any allergen-inducing chemicals, preservatives, scents, or additions. The product is produced with potent biocide, virucides, and bactericides and is EPA authorized for electrostatic sprayer use.
For in-home or commercial use, the Briotech Sanitizer and Disinfectant is offered in four sizes, including a 24-ounce bottle (or case of 12), a 32-ounce bottle (case of 12), and a one-gallon jug (case of four), five-gallon pail, and 55-gallon drum.
Highlights
Sanitize
Eliminates 99.99% of viruses and bacteria.
Ready to use
The formula for 3 in 1 (sanitizer, disinfectant, odor eliminator). Does not need dilution, mixing, or safety gear. Alcohol is nonexistent. Zero percent Bleach Ammonia content: 0% No strong cleaning odors. It's time to reconsider cleaning products!
Contains HOCL
Cleans like conventional chemicals. Suitable for cleaning bathrooms, kitchens, airports, business & industrial buildings, gyms, autos, tablets, mobile devices, glass, keyboards, pet toys & bowls, schools, and nurseries.
No rinse-safe contact with food
Salt, water, and electricity are used to create hypochlorous. On surfaces that come into contact with food, there is no need to rinse. Eliminate food odors and lessen the chance of cross-contamination.
Removing odor
Short evaporation time; no rinsing. Eliminates pet scents such as pee or feces. Eliminates non-living allergies and has no fragrances, colors, or volatile organic compounds.
Customer experience
Customers have shown love for this toilet seat cleaner. It has a very nice smell and is very easy to use, according to the customers. It also comes in a hand spray bottle which is one of the plus points for customers. This product helps you keep your toilet clean and free of bacteria.
Zero Odor – Multi-Purpose Odor Eliminator -...
Permanently Eliminate Odors in Kitchen, Bathroom, Nursery, Basement and more. Smoke, Even Skunk Odor
Zero Odor Doesn't Mask or Cover Up Odors with Fragrances or Perfumes- it eliminates them forever
Temporary "tracer scent" helps consumers know where they have sprayed, and quickly disappears
Zero Odor is a new and unique way to deal with and get rid of smells. There are some things that all smells and odors that people find unpleasant to have in common. These things are like a signature that Zero Odor is drawn to. Zero Odor looks for offensive odor molecules and bonds with them in a way that can't be undone. This is how it turns them into molecules that don't smell bad.
Any offensive odor that Zero Odor comes into contact with is erased and permanently removed after it is sprayed in the air (or on a surface). An impartial laboratory using gasses that represent the basic components of all recognized scents have tested Zero Odor.
Instead of concealing them with perfume or medical fragrances, Zero Odor multipurpose spray is designed to eradicate strong odors, such as skunk and diaper odors. When you spray it, a brief "tracer aroma" that marks the places you treated will be detectable. That reduces waste and extra work.
Zero Odor is biodegradable, non-toxic, and allergy-free. You can use it on any surface without worrying about stains because it contains neither bleach nor chlorine. Once more, it's a good idea to test the substance on a small patch of the surface before applying it elsewhere. According to the spray's producer, scents can be permanently eliminated by changing the way they are structured.
Highlights
Eliminates several smells
In the kitchen, bathroom, nursery, basement, and other locations, odors can be permanently eliminated.
Finish the odor completely
Zero Odor eliminates odors rather than masking or covering them with aromas or perfumes. To completely get rid of odors and stop them from coming back, spray in the air and on surfaces throughout any room.
Tracer scent
Customers use a brief "tracer scent" to locate where they have sprayed, but it quickly wears off. It lacks bleach or chlorine and is biodegradable, non-toxic, and non-allergenic.
Customer experience
Customers say it gets rid of strong odors and is safe to use inside and outside the home. The best option is Zero Odor if you have more money to spend. You can also save time and money when operating in a big region by using the temporary "tracer fragrance."
When two lifelong friends were sitting and watching their children play on the floor in 2008, Better Life was born. The two were concerned that toddlers would pick up dust, filth, and possibly harmful cleaning product residue.
They sought to remove muck and grime without jeopardizing their security. To challenge the way people view natural cleaning solutions, they created a range of cleansers that are made from plants and are safe for the environment.
Since Better Life Natural Tub and Tile Cleaner is made without colors, synthetic perfumes, or solvents derived from petroleum, it is ideal for use in locations that children or dogs frequent. All of the cleaner's bottles are packaged with recyclable materials, which biodegrade up to twice as quickly as other bottles of conventional cleaners. The cleaner is skilled at removing soap, rust, dirt, grime, and hard water stains from all varieties of tubs, tiles, and grout.
Decyl glucoside, coco polyglucoside, lactic acid, sodium citrate, and coco betaine (coconut oil) are listed on the website as the cleaning agents and surfactants (dirt trappers); utilized in this cleanser, with tea tree oil receiving honorable mention for its "cleaning characteristics."
Highlights
The Better Life cleanser revitalizes outdated bathtubs, toilets, and showers while remaining toxic-free and environmentally friendly. Compared to other natural cleaning products on the market, it cleans better.
Improves your bathroom's color
Remove stubborn water stains, rust, and soap scum without harmful vapors or strange scents. After that, feel free to splash, shampoo, and sing in your beautiful bathroom.
Slay smudges and stains
Strong, plant-based cleaning agents blast stains down the shower drain and remove filth from grout, leaving nothing but a minty fresh aroma behind.
Clean with the right things
No need to worry about harmful chemicals! Products from BETTER LIFE are created with plant-based organic cleaning components to provide a strong clean!
Safe ingredients
Better Life has created effective cleaners made from plants by removing superfluous components. Their cleaning products have fewer warning labels and don't include harsh chemicals like ammonia, bleach, parabens, and phosphates.
Natural cleaning products are a terrific alternative to conventional cleaning chemicals, especially when there are small hands and mouths nearby and if you have pet-friendly houses.
Customer experience
The fact that this solution is non-toxic, factual, and efficient in cleaning showers and bathtubs has been well received by customers. Dissatisfied customers complained that the spray head was challenging to use and that the liquid lacked the minty flavor that had been advertised.
Sale
Mold and Mildew Stain Remover Cleaner Boat Seats...
EFFORTLESSLY REMOVE MOLD & MILDEW STAINS: Our premium mildew stain remover starts working on contact to break up and dissolve mildew and...
SAFE FOR VARIOUS MATERIALS: On the boat, RV, or in the bathroom tile grout, shower walls or curtains. Safe on fiberglass, plastic, rubber,...
PREVENTS MILDEW STAIN FORMATION: This fabric mold and mildew stain remover continues to conrol after applied to prevent mold & mildew...
The Better Boat Mildew Stain Remover is the only toilet cleaner you'll ever need. Starting off, the easy and superior cleaning power of this mold cleaner will exceed your expectations. By just spraying it on the stain and rinsing it out with water, it provides quick and comfortable results.
Additionally, it prevents the development of new mold, keeping those boat seats white and immaculate throughout time. This stain remover is a fantastic option for durable defense. By penetrating both the interior and exterior of the material and destroying the mold's actual source, it prevents mildew growth. It is incredible how effective it remains even after being washed off after use.
It is advised to use this mildew remover for both indoor and outdoor cleaning. Stains of any age can be applied to a variety of materials, including vinyl, plastic, fiberglass, and more. Surprisingly, the fabric also works just fine with it. This makes it the perfect option for renewing any outdated camping equipment, patio furniture, or recreational vehicle to its original state.
When it comes to protecting your toilets, this option is priceless. It is a 4-in-1 product with the ability to clean, remove stains, prevent mold, and restore. It won't just live up to expectations; it'll raise them.
Highlights
Removes molds and mildew effortlessly
Without using severe scrubbing, our premium mildew stain remover begins to break up and dissolve mold and mildew stains as soon as it comes into touch with them. Won't snag the stitching on chairs, cushions, pillows, or canopies.
Suitable for different materials
On the RV, boat, or bathroom's shower walls, curtains, or grout. Safe to use on bimini tops, vinyl, upholstered furniture, fiberglass, plastic, rubber, decks, wood, vinyl siding, and outdoor patio and pool furniture.
Prevents the growth of mildew
After being applied, this fabric mold and mildew stain remover keep working to stop mold and mildew stains. Simply spray on the cleanser, wait for the black spots to vanish, and then rinse it off.
Superior quality
Unlike a gel, it is specially engineered to remove stains with a broad spray without fading your clothes. We make use of premium ingredients that are absent from other inferior boats, RV, auto, home, and household cleaners.
Superior reputation
They are a family-run American company dedicated to producing products for interior & outdoor cleaning that are of the highest caliber. They guarantee that our protectant release mildew and mold stain removal spray will meet your standards.
Customer experience
Customers love this stain remover. They were surprised by its multipurpose nature. It can be used on many types of surfaces. Customers also praised its customer service. They also love that it prevents mildew growth for a very long time.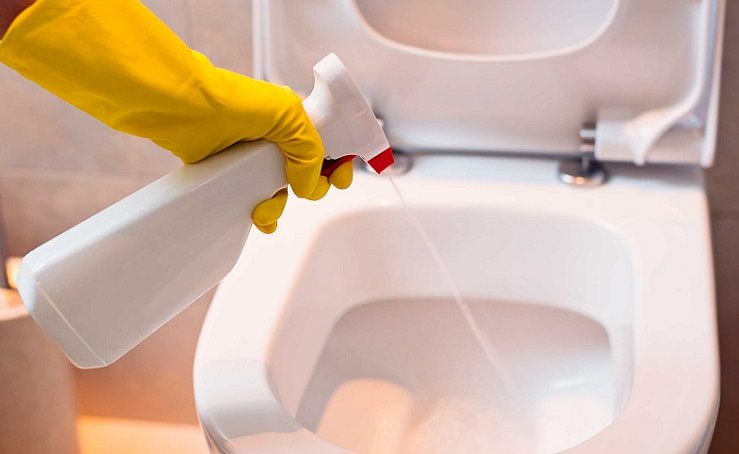 Things to Consider When Choosing the Best Cleaner for Toilet Seats
Speed
In reality, very few individuals in the world like to clean. A quick-acting product is what you need. But you frequently need to find a balance when it comes to stains. Removing them can be challenging. That occasionally involves having patience.
Some cleaners take some time to start eliminating the mildew. Remember that as you proceed. Rarely do you squirt some cleanser on and immediately wipe it off. This task can wind up taking the entire day. Know how long it will take you to do the task properly.
Ingredients
While some components, like bleach, are excellent for getting rid of stubborn stains and cleaning the toilet, they might not be the best option for someone with children or pets or who does not want to be around chemicals.
Additionally, some gels and tablets might be okay for septic tanks or toilet tanks, while others might not. Check the labeling to make sure the cleaner matches your way of life.
Longevity
Particularly with tablets and gels, the shelf life of toilet cleaners might vary. Some pills and gels have shelf lives that range from one week to several months. Read the label carefully for information on how long these last and how often you should change them.
Type
There are different kinds of toilet bowl cleaners, and each one demands a different amount of work from you. The traditional cleaners come in two varieties: liquids or gels that you apply to the toilet bowl and scour with a toilet brush. Additionally, there are toilet bowl wands that don't require a brush and use disposable cleaning heads instead.
This is convenient if you're worried about keeping a used wand around. Finally, for hands-free cleaning that is still effective enough for typical messes, some pods or discs operate in your toilet's tank every time you flush (i.e., weekly cleaning).
Effectiveness
The top toilet bowl cleaners are all efficient for daily cleaning, but if your toilet has rust stains or hard water build-up, you might need a specialized solution that will go after the problem's source. Find a cleaner that is targeted to your specific needs.
Just be aware that these toilet bowl cleaners tend to be more potent and contain harsh substances like bleach that aid in getting rid of stubborn stains and bacteria.
These substances could be harmful if you have children, pets, or a septic system. If that's the case, you might prefer a kinder and more natural product that needs a bit more work.
Type of stain
Some stains might need specialized treatment that you can't get with conventional cleaners. For instance, while the majority of cleaners can handle simple limescale accumulation, they could struggle with rust. Read the product description to be sure your cleaner will remove the specific stains you are experiencing.
Frequently Asked Questions
How do you clean a stained toilet?
It's not the most opulent question we've ever heard, but it couldn't be more crucial to maintaining a house you can be proud of. There are numerous strategies to employ when taking on the dreaded bowl. One clever technique is to clean the toilet with a bleach-based cleanser, starting below the rim.
After that, you should begin washing the sides, having in mind that you need to wear gloves while doing so. Finally, use a disinfectant to spray the exterior of the toilet bowl, being sure to cover the lid, chain, and tank as well. Use a clean sponge to clean it after it has been left for 10 to 15 minutes. It's done!
Related: Best Self Cleaning Toilets
How frequently should a toilet be cleaned?
The recommended procedure is to disinfect and clean toilets at least once a week, with daily cleaning if a family member is ill. You can go longer between cleanings if you use a toilet bowl cleaner designed to keep the region germ-free for weeks at a time.
Do cleaners for toilet bowls expire?
Yes. Your toilet bowl cleaner should typically last for approximately two years. Even though the bottle may not have an explicit expiration date, all products lose their effectiveness over time due to deterioration. Particularly with toilet bowl cleaners, less efficiency equals less cleanliness and more bacteria. However, if you use your cleaner once a week, you should finish it before it expires and won't need to worry.
Read More: How Long Do Toilet Bowls Last?
How can I naturally maintain a clean toilet?
On the market, there are a lot of potent toilet bowl cleaners produced with natural chemicals. Cleaners like Better Life Natural use citric and lactic acids made from plants and essential oils to get rid of stains.
Can I apply toilet cleaner to other things?
Toilet cleaner shouldn't be used as a general bathroom cleaner; it should only be used to clean toilets. The majority of them include acids that dissolve soap scum and limescale as well as bleach or other sterilant substances. Although these substances are safe to use in your toilet, they can ruin other surfaces' finishes.
Are toilet seat cleaners safe for septic tanks?
Toilet bowl cleaners and cleaners containing bleach or chlorine in them ought to be avoided or used sparingly if you have a septic tank. They can cause your septic tank to backup if you use them excessively. Beware of sodium hypochlorite or chlorine bleach on product labels. These can contaminate your drinking water, cause septic tank backups, and emit unpleasant odors.
Which cleaning products for bathrooms shouldn't be used at the same time?
Safety should always come first when cleaning, and several cleaning agents should never be mixed. Bleach should never, ever be mixed with anything other than the water it is being diluted in. Avoid mixing bleach with ammonia in particular.
A smart tip is to keep vinegar and hydrogen peroxide apart. When in doubt, always carefully read labels and conduct research before using products.
When should I wait before using various bathroom cleaners?
Avoid using cleaners simultaneously. After removing the first one and ensuring there is no leftover cleaner, you can use the other cleaner. Wash the surface with water and soap first if you're unsure.
Can I use bathroom cleaners when pregnant?
Yes. The majority of toilet cleansers are safe to use when pregnant. However, the American Pregnancy Association advises avoiding using aerosol cleaners and spray wherever possible to avoid exposing yourself to cleaning products that include glycol ethers and phthalates. Wear safety gear and make sure the location is well ventilated. Additionally, some of the best bathroom cleaners include gentler natural or plant-based components.
Will these items still require me to scrub with a brush?
This will depend on several things, including the intensity and tenacity of the stains or limescale you may have, how long you let a product sit, and the potency of the cleaning solution. From highly concentrated and robustly formulated to softer options, our selection has them all.
Conclusion
This is it! These were the best cleaners for toilet seats on the market. It might be challenging to choose the toilet cleaning product that is appropriate for your needs with so many options available on the market. We suggest using the effective RMR-86 Instant Mold and Mildew Stain Remover Spray if you want a straightforward and powerful cleaning tool that will get rid of bacteria and viruses.