The American Standard has been a market leader in bathroom and kitchen hardware. They are a major brand for toilets and have a superior range of innovative designs in the market. There is no need to second-guess the performance and durability of their products.
But with a staggering number of choices from this brand, how can you find the right fit for you? Well, you can relax because we have done the hard work for you. Our list of the best American Standard toilets consists of products with the most elegant designs and the latest functionalities.
Most people don't take seriously the decision of changing the toilet. But the toilet is something you probably use often and daily. Choosing a comfortable and efficient toilet is going to matter a lot.
You can go through our review of these five toilet models from American Standard and make your purchase worth the investment! 
How We Made the List of the Best American Standard Toilets
We are aware that every home needs a different kind of toilet to serve its needs. So, our research was aimed at finding the best products for everyone. We considered the size, design, quality, functions, and efficiency of the toilet when making this list.
Our list consists of the best toilets in different configurations so each user may find the most relevant toilet for their house. Besides comparing the features, we also checked out the customer feedback for every product before adding it to our list.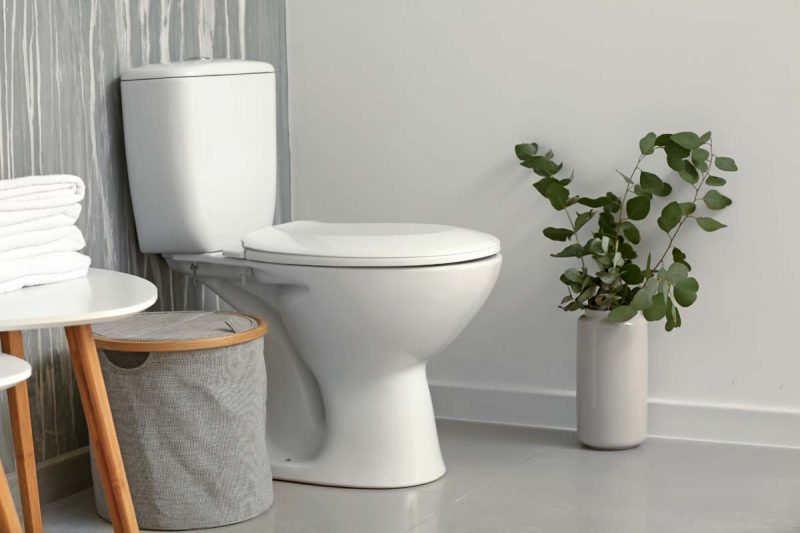 Best American Standard Toilets Review
It's a sleek, white, toilet with a concealed trapway. It has an innovative, powerful flushing system, which is very quiet and saves a lot of water. It is a one-piece model and is therefore very easy to keep clean.
This toilet is made of vitreous china and comes with a lifetime warranty on the chinaware. You also get a five-year warranty on all mechanical parts and one year warranty on the seat.
According to several customer reviews, it is also very comfortable to sit on. It will go perfectly well with the studio S collection in your bathroom.
No compromise with the flushing performance
American Standard has made this look sleek with its minimalistic design but works as a high-performance toilet. It's a low-profile tankless toilet. But the features like the CleanCurve Rim and PowerFlo flushing make it stand out from the rest.
It gets the job done with just 1 gallon of water. It's powerful but quiet. It is meant to look great and not add to the noise. Also, it doesn't need a power supply or batteries to do its job.
The elongated bowl and right height ensure comfort
These toilets are made not only to look good but also to be very comfortable. So, if you don't like to compromise with the comfort of your toilet, this will be a great choice for you. It has a height that does not put extra pressure on your knees.
Single-piece, tankless toilets are easier to keep clean
These are more compact, sleeker, and easier to clean than the standard toilets. Single-piece configuration leaves no crevices for bacterial growth. These are also more durable and less likely to break. Single-piece toilets are also much easier to install.
Highlights
Its design makes it easier to clean the toilet
The flushing system helps conserve water
It has a sleek and modern design
The right height makes it comfortable to sit on
The flushing system is fast but quiet
Easy to install
This American Standard product is both comfortable and efficient. It is a one-piece toilet, which makes it more compact and easier to install. The elongated bowl is another factor contributing to greater comfort. The Champion 4 model is available in both; standard and right height sizes.
It features an EverClean surface, which is easier to clean, and it stays clean for a longer period. The design also ensures that it doesn't get clogged. The product comes with a slow-closing toilet seat.
The EverClean additive prevents bacterial growth
An unclean toilet can invite a lot of different diseases. It can be hard to keep the toilet surface free of molds and mildews. But this toilet comes coated with the EverClean additive that inhibits all kinds of bacterial growth.
It makes your toilet look smooth like a mirror. Also, you will find it much easier to clean these toilets without the need for harsh chemicals.
Toilets with added comfort
American Standard knows perfectly how to make toilets comfortable to sit on. With this product, you get the elongated bowl and right height, thus making it way more comfortable than the other toilets.
While the standard toilets are only 15 inches high, the right height ones can be up to 17 or 19 inches in height. So, a right-height toilet would be more comfortable if you have taller individuals. The elongated bowl is also more comfortable as well as more hygienic for adults.
No more clogging problem
If your older toilet has been clogging time and time again, this heavy-duty toilet will eliminate the problem. It can move a 70% larger mass than the standard toilets. So, it is not just a good-looking toilet, it is powerful enough to get the job done without issues.
Highlights
It is a one-piece toilet
It is designed to ensure clog-free performance
The EverClean coating makes the toilet easier to clean
It has a powerful but quiet flushing system
It has an elongated bowl and is also available with the right-height
A slow close toilet seat is also included with the toilet
This one is an elongated toilet in a two-piece configuration. This model by American Standard is efficient, easy to clean, saves water, and is more affordable. It is also more suitable for smaller bathrooms.
Pressure-assisted flushing, EverClean surface, and fully glazed trapway, are some of the key features that make this model stand out. If you are looking for a replacement for your older dysfunctional toilet, this one could be the right fit for your bathroom.
Gets the job done very efficiently
It is equipped with a powerful flushing system, so you will only need to flush once. This will help save water, but it may be a little louder than other standard toilets. However, the flush is very effective, and it does clean the sides of the bowl as well.
Antimicrobial surface inhibits bacterial growth
You don't want your toilet to be a breeding ground for bacteria, molds, and mildews. Fortunately, these toilets come with an EverClean coating that prevents the growth of harmful microbes that cause odor and illnesses.
Pressure assisted toilet uses less water for efficient flushing
It's not only a powerful flushing mechanism, but it also requires less water to do the job. Even at the time of peak usage, it doesn't get affected by the low water pressure in your house. It has its own pressure system for flushing.
Highlights
You will receive a combination bowl and tank without a seat
The product features an elongated bowl
It is equipped with a pressure-assisted siphon jet action
The toilet surface is coated with EverClean to inhibit bacterial growth
It has a fully glazed trapway
The product is made from vitreous china
Another great compact toilet from American Standard is the Cadet 3-FloWise Tall height. Besides the amazing aesthetics, it is packed with modern features and is very comfortable to sit in. It's very easy to install, requires less space, and is tall enough for all kinds of individuals.
If your water bill is a cause of worry for you, this toilet with its FloWise technology will appeal to you. This offers you the highest level of water conservation available in the market.
Elongated design that can fit in small bathrooms
If the size is an issue for you in creating your dream bathroom, then the Compact Cadet 3-FloWise offers the perfect solution. Even though it has an elongated bowl, it is still so compact that it easily fits in smaller bathrooms.
No place for dirt to accumulate
Another solid upside of choosing this product is that it is a one-piece configuration and doesn't have a gap where dirt may collect. It is easier to maintain these and keep them looking as good as new.
A leading product in water conservation technology
Besides being a comfortable toilet, it offers you the highest level of water conservation available in the market. It is also WaterSense certified and only uses about 1.28 gallons per flush. You can bring down your water bill with this American Standard toilet.
Highlights
These toilets feature an EverClean surface that inhibits bacterial growth
These are taller than the standard toilets
These come in a 1-piece configuration
You will find an elongated bowl in these toilets
FloWise technology helps with water conservation
It also includes a slow-close seat
This one is a low-profile, one-piece toilet that is compact enough to fit conveniently and is quite simple to install. The right height and elongated bowl make this a very comfortable toilet for all kinds of individuals.
It has a clean and modern look, making it a good choice for remodeling your bathroom. Since it is a single-piece design, there are no crevices where dirt and grime may settle. Besides the appealing aesthetics, it is also packed with modern features and is very efficient.
The product is durable so it's a worthy investment. The brand offers a two-year warranty on the product. The one-piece design makes it very compact even with the elongated shaped bowl. It offers an additional surface area for comfortable sitting. But can easily fit in smaller bathrooms.
Clean and modern space-saving toilet
It has a minimalistic design and compact size to fit in all kinds of bathrooms. But the right height and elongated bowl ensure that you enjoy great comfort when you use the toilet.
If you are looking for both; a comfortable and easy-to-accommodate toilet, this is probably the best American Standard toilet for your needs. It is designed to look good in most settings and comes with polished chrome and a side-mounted trip lever.
No gaps for dirt and grime
It's common for most toilets to gather dirt and become smelly due to the growth of bacteria, molds, and mildews. Its one-piece design doesn't leave any such crevices that can become a breeding place for microbes.
It's a high-efficiency toilet
The colony's right height is also going to contribute towards saving water for you. It saves 20% more water than any standard toilet. Its powerful flushing cleans the sides of the bowl and keeps the toilet shining.
Highlights
It is an elongated, right-height toilet
The low-profile design makes it easier to clean
This product comes with a slow-close seat
It is WaterSense certified
The toilet has a clean and sleek look
It is very comfortable to sit on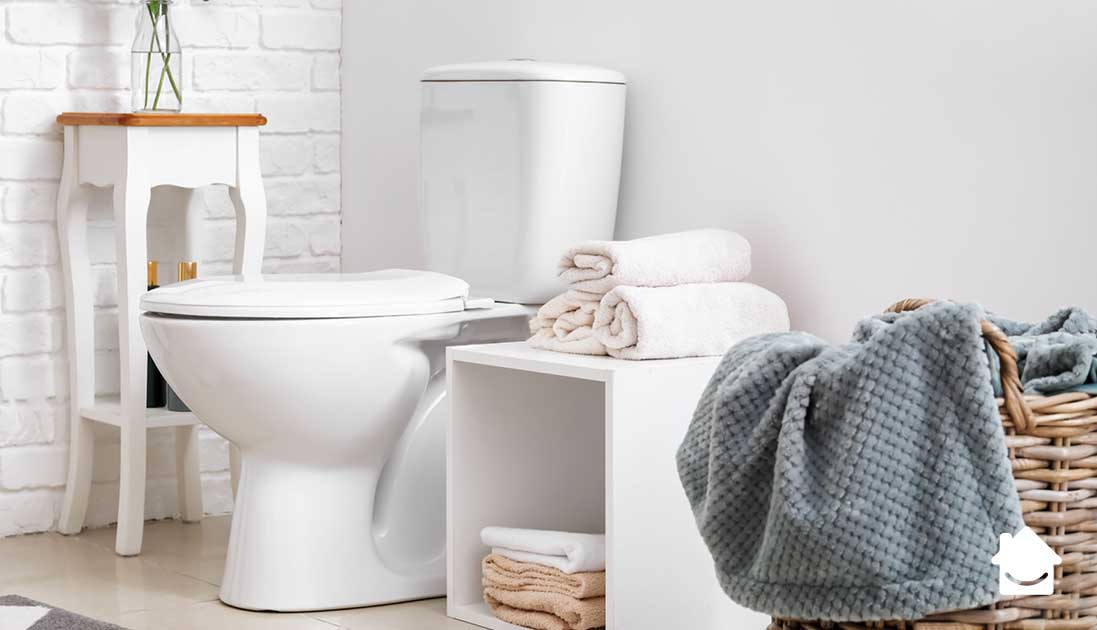 How to Choose the Best American Standard Toilet
Select a suitable type and style
Do you want a one-piece toilet or a two-piece toilet? The one-piece configuration is more compact, durable, and easier to clean, but it is more expensive. Two-piece is more affordable but it is less compact and also takes more time for installation.
So, this is the first decision you need to make when choosing a toilet. The next thing to consider is the aesthetics of the toilet. The bowl shape matters not only in terms of style but will also determine the space needed to accommodate the toilet in your bathroom.
These are available in small, round-front or long, and elongated front bowl shapes. Round-front bowl requires very little space and is ideal for small bathroom spaces. Elongated bowls tend to be more comfortable with their longer rim, but these occupy more space.
Flushing system
American Standard toilets come in four different flush mechanisms. Your toilet may have an under-rim power-scrubbing, with or without siphoning. These usually have 2-inch traps and 3 or 4-inch flush valves.
You also need to choose between a single or dual flushing system. A single-flush system uses the same amount of water to flush any waste. But a dual-flushing system has two different amounts for urine or feces.
If you intend to save money on your water bill, a dual flushing system should be the preferred choice.
Warranty
Yes, you expect your toilet to be durable when purchasing from a reputable brand. But if the brand is confident about the durability, they shouldn't hesitate to offer a warranty. The warranty period would vary from product to product.
All the top products come with a warranty. Many toilets from this brand offer a lifetime warranty on the chinaware and a few years warranty on the mechanical parts and the seat. It's always better to secure your purchase by opting for a product with a long warranty.
Gallons per flush
If you are concerned about your water bill, this value becomes quite important when choosing a toilet. Water conservation features on your toilet will reflect on your monthly bill. You can save 20% more water with the high-efficiency toilets (HETs) from American Standard.
How to choose the shape of the bowl
You may be unsure about what shape of the bowl is best for you. Well, it can determine how comfortable your toilet would be. You can choose an elongated bowl, a compact elongated bowl, or a round bowl.
An elongated bowl is the most comfortable type of toilet. It also has a greater surface area and therefore prevents a mess. But these require more space and are not suitable for smaller bathrooms.
For those who have smaller bathrooms, they may either choose a round-shaped bowl or a compact elongated bowl. You can get ample comfort with a small profile if you choose a compact elongated bowl. These are very popular and are available only in a one-piece design.
More Information Regarding the Toilets
Why does my toilet keep clogging?
There may be a variety of reasons behind the clogging of your toilet. The older models, called the low-flow toilets, are quite prone to clogging. The toilet trap or the vent may be blocked. Clogging may also occur due to the flushing of non-flushable items.
If you are using an older model with inefficient flushing, it may be the time to get yourself a new and powerful toilet with advanced flushing capabilities. You can avoid costly repairs by getting yourself a modern toilet with a high flow.
When should you choose a one-piece toilet?
You cannot finalize your decision until you decide what type of toilet to buy. One-piece toilets can be costlier than two-piece toilets, but the benefits of using a one-piece toilet are plenty. These appear more compact, take less time to install, and are less prone to damage.
The absence of crevices means that the one-piece toilets are much easier to keep clean. The microbial growth is restricted since there is no place for dirt or grime to collect on these toilet surfaces. The one-piece toilets also have a higher-end look.
The only drawback of one-piece toilets is that they are heavier and more expensive. If you don't have the budget for a one-piece toilet, you may consider some of the best models in a two-piece configuration.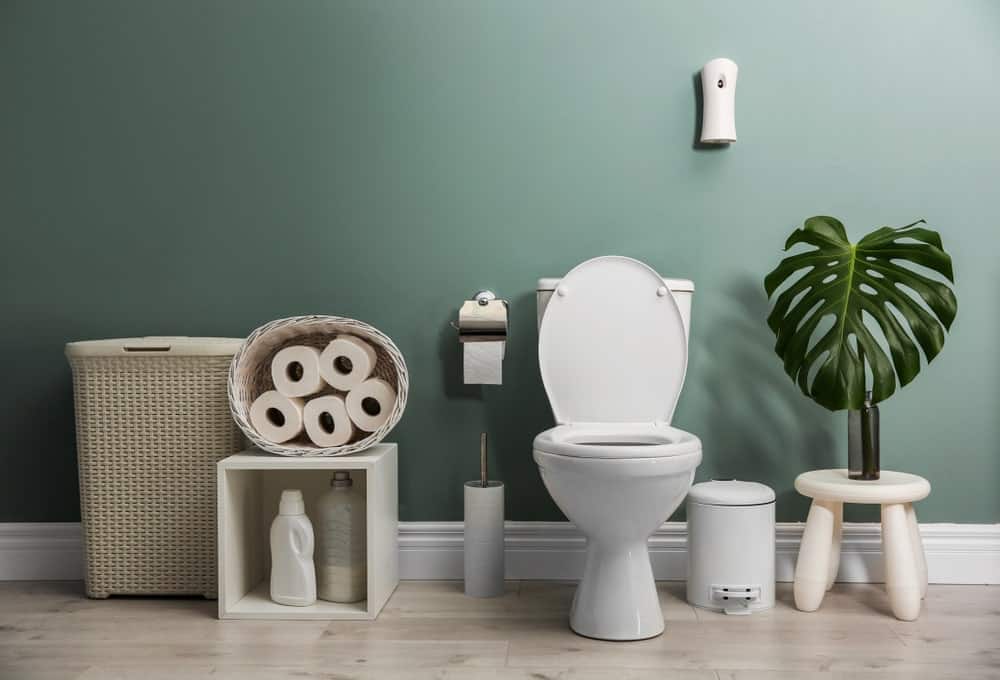 Frequently Asked Questions
Which American Standard toilet has the best flush?
American Standard offers HET (high-efficiency toilets) that help you save up to 20% more water with the flushing system. You can save on your monthly bill if you choose a toilet with WaterSense certification.
But the flushing system should also be powerful enough to get the job done with a single flush. If you have to use it twice to clean the sideways, you will end up using more water or leave the toilet dirty.
The Studio S Right Height, Champion 4 elongated, and The Colony Right Height toilets have the best flushing system and water conservation facility. Their consumption of water is very low but they have a powerful flushing function.
Which is better, a one-piece or two-piece toilet?
Most people consider a one-piece toilet a better option. The one-piece toilet has less space for dirt to collect. These are easier to keep clean and have a lower possibility of bacterial growth. Another reason why customers prefer a one-piece toilet is that it is easier to install.
On the other hand, two-piece toilets come with detachable parts offering more flexibility for customization. Two-piece toilets are also more economical compared to one-piece toilets.
What is a comfort height toilet?
A comfort height or right height toilet is one with higher seats. These are typically 17 to 19 inches taller. These are more comfortable to sit on because you don't need to squat down and cocking the knees to the sides.
Comfort height toilets are more suitable for taller individuals or anyone with knee or back pain. However, these may not be good for shorter individuals or kids. So, you need to consider who will be using the toilet to decide if you want to go with the comfortable height or standard toilets.
How to choose the right toilet?
As a buyer, you should think about your needs, bathroom space, and budget to choose the best American Standard toilet. For instance, if you are looking for a toilet for your kid's bathroom, it may not be a good idea to select a comfortable height toilet.
If your priority is to save on your water bill, a WaterSense-certified toilet with a dual flush would be a better choice for you. So, there are a lot of factors to help you decide on the best product for you. You must also consider the design and configuration of the toilet.
A single-piece toilet is more compact, easy to install, and stays clean longer. The toilet with an elongated bowl is more comfortable to sit for longer. These factors also help you decide on the best toilet for you. But don't forget to consider if the toilet is the right size for your bathroom.
How do you know when it's time to replace a toilet?
A toilet may give a variety of different signals to tell you that it's time to get a new one. Constant clogging, wobbling, inefficient flushing, etc. are the major signs that you need to discard the current toilet.
In homes that get hard water, the minerals may collect in the inlet holes and siphon tubes. This buildup can restrict the water flow and make your toilet inefficient.
However, you don't need to wait for your toilet to stop functioning before you replace it. Older toilets may appear to work properly, but they may lack the efficiency of modern toilets. The new range of the best American Standard toilets also has an aesthetic appeal.
So, if you are renovating your bathroom, and want the toilet to complement the modern design of your bathroom, you can buy a new toilet that goes together well with the new bathroom setup.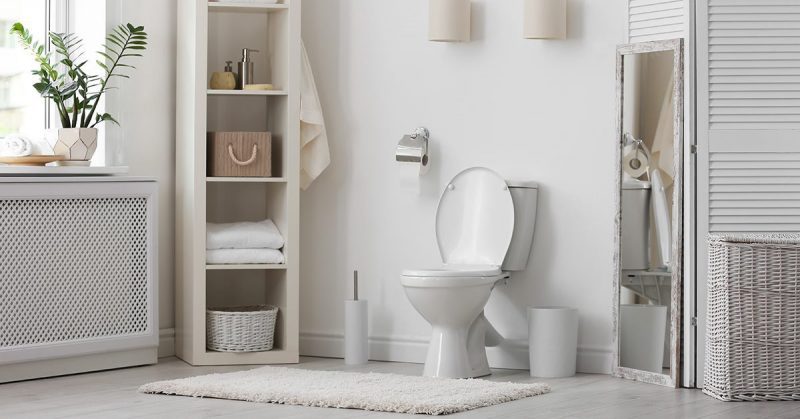 Is a dual flush toilet better?
A dual flush toilet has two different buttons to flush different amounts of water. With a dual flush, you use less water to flush urine and more water to flush feces. Whereas, the single flush uses the same amount of water to flush urine and feces.
So, your toilet saves more water with the dual flush system compared to the single flush. Dual flush is better in the sense that it only uses an amount of water that is adequate to get the job done. It is more efficient than the single flush system.
Which toilet has the best modern design?
The American Standard has several modern-looking toilet designs. However, the Studio S Right Height toilet is one of the best modern and innovative toilets from this brand. It comes in a single-piece configuration and has a concealed trapway.
It has a sleek and seamless design with a rim that eliminates any places where dirt may collect. So, it is a great-looking but powerful and quiet toilet. It is one of the best American Standard toilets that will coordinate with your studio S bathroom collection.
Which is the best American Standard toilet?
Whether you are looking for a modern design, water-saving toilets, powerful flushing, EverClean surface, concealed trapway, or a high level of comfort, American Standard has a variety of toilets that may have some or all of these attributes.
Some of the best American Standard toilets you should consider are the Studio S Right height, Champion 4 Elongated one-piece, Cadet Elongated pressure-assisted, Compact Cadet 3-FloWise, and the Colony Right eight.
These are durable, innovative, and have diverse features to suit the needs of all kinds of individuals. You may have a small or large bathroom, low or high budget, and you may have your own unique design preference. You will find one of these to be ideal for your bathroom.
How long does it take to install a toilet?
It depends on several factors like the type of toilet you have bought, the water system in your house, and the experience level. You may also need to replace the flange if you notice any wear and tear.
So, it may depend on what parts require replacement. But it typically takes 2 to 3 hours to install a new toilet in your bathroom.
Conclusion
You probably realize that not every American Standard toilet is for you. They are a great brand with a solid reputation. But every product from the brand is tailored for specific customers. It takes some effort to find out the best American Standard toilet for you.
There are several factors based on which you can select the best toilet model from this brand. It offers you a spectacular range of options, with leading specifications in the market. So, you can only get the best out of a product if you understand all the aspects of the product.
It should look good, work well, have innovative features, and must be economical. The American Standard does offer the best toilets for your home, but it is up to you to select the right one. Our review should help you make sense of all the features of the products from this brand.
You can use our analysis of the best American Standard toilet models to get the most value for your money. Buying the right toilet might make you feel like sitting on a throne. You should not choose in a rush!